Vacuum Electrical Feedthrus
Electrical Feedthrus for Welding into Vacuum Flanges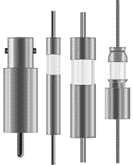 The following electrical feedthrus can be TIG (tungsten inert gas) welded into vacuum flanges to permit transfer of electrical lines into a vacuum system. All the feedthrus are high vacuum tested to 1 x 10-9 cc/sec and can be baked to 450 degrees C. All feedthrus are suitable for TIG welding. Other feedthrus may be available on special request.
We can custom weld any of the feedthrus shown onto your instrument flanges. The charge for this repair is $120.00 per feedthru which includes (1) drilling the hole in the flange, (2) TIG welding the feedthru in place and (3) leak testing the completed flange for vacuum down to 1 x 10-9 cc/sec. The cost of the feedthru is additional. Call or write for additional information or refer to the section of this catalog for a description of our facilities and capabilities.
BNC Connector Feedthru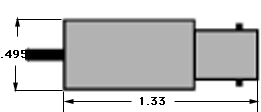 This one connector weldable adaptor is used to repair the flanges on Finnigan mass spectrometers. The vacuum side connection is a 0.092" diameter pin and opposite side connection is a BNC quarter turn quick connect fitting. Connector plug is included with feedthru.
B52301
BNC Feedthru
EA
3
10
$70.00
[*L] Standard lead-time for out-of-stock items is approximately two weeks depending on the item.
Ordering information. International (non-US) prices available through your local dealer.
---
TSQ® 70 Feedthru
---
Pin Connector Feedthru, large

Similar to the feedthru above, except larger. Used on some of the Finnigan mass spectrometers.
---
H.P. Pin Feedthru

This single pin electrical feedthru is used on some of the Hewlett Packard mass spectrometer flanges.
---
10 Pin Electrical Feedthru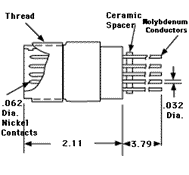 This feedthru can be welded to a vacuum flange to permit the connection of 10 electrical wires into the vacuum system. This feedthru is used on some of the Finnigan mass spectrometers.
Other pages linking here:
Covers SIS products, services, promotions, news, and other mass spectrometer related information.