Product ID : PCU360
PCU360 PicoClear Union for 360 OD tubing
Description
More details on associated web pages:
New Objective PicoClear™ Unions
New Objective PicoFrit® Columns
PicoFrit® - columns eliminates band broadening, sprays directly for columns to inlet minimizing post column loss.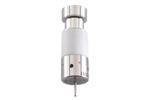 Electron Multipliers, DeTech 2300 Multipliers for Agilent 5975/5973/597X/1100
Get a DeTech 2300 Electron Multiplier here. Used in Agilent 5975 MSD (without TAD)/5973/5972/5971/5970/1100 LC-MSD mass spectrometers and backed by a 100% no-nonsense warranty. Developed by Detector Technology, Inc.
New Objective Electrospray Fused Silica PicoTips™
Nanospray / Electrospray tips available from Scientific Instrument Services, Inc.