Description
FFL4MM Lens Heater (REP43)

FFL2CC Lens Heater (REP44)
Finnigan' lens heater (#40004-60300) and the S.I.S. manufactured heater (FFL-2CC) can both be repaired. Our repair includes disassembly of the lens heater, cleaning the ceramic insulating parts, and the installation of new heater wire and leads. The ceramic must be in good condition (not cracked in two) to complete the repair.
In addition, the original style Finnigan lens heater and the FFL2CC can be converted into our new style during repair. The new style single piece construction lens heater (SIS Part No. FFL4MM) eliminates many of the breakage problems common to the old style two piece construction. Please specify that the lens heaters are to be repaired in the FFL4MM configuration if you would prefer this new style. The cost for this conversion is $35.00 per lens.
Part No.
Description
Price
EA
Order
REP43
Repair of SIS Style Lens Heater
$48.50
REP44
Repair of Standard Lens Heater
$35.00
FFL2CC
Standard Lens Heater, NEW (Finnigan #40004-60300)
$99.00
FFL4MM
S.I.S. Lens Heater, NEW
$115.00
* Standard lead-time for non-stock items is approximately two weeks depending on the item.
Ordering information. International (non-US) prices available through your local dealer.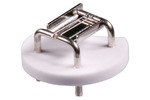 Filament Repair Services for Mass Spectrometers
Mass Spectrometer filaments and heaters can be repaired and restored to a like-new condition at S.I.S.