Finnigan MAT Lead Repair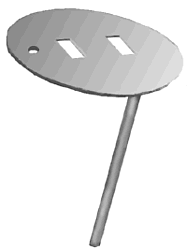 In most cases leads can be respotwelded if the spotweld breaks; otherwise, it can be replaced if necessary. The photo shows a lead which was replaced on a multiplier shield. Most of these repairs can be done for as little as $29.00. Please call or send us a sketch along with the parts for the repair.
REPL
Finnigan MAT Connecting Lead Repair, Respotwelding or silver soldering
EA
0.25
CALL(#)
$29.00
[*L] Standard lead-time for out-of-stock items is approximately two weeks depending on the item.
(#) Call for availability.
Ordering information. International (non-US) prices available through your local dealer.
Other pages linking here:
Covers SIS products, services, promotions, news, and other mass spectrometer related information.