Finnigan MAT 3200 Heater Repair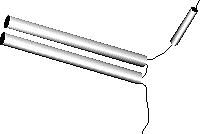 FH1
Finnigan #01554-20180
The Source Block Heaters for Finnigan 3000 series mass spectrometers are in stock for immediate shipment. The heater includes parts as shown in the picture.
For replacement of the heater wire in your old ceramics on the Finnigan 3200 source heaters, ask for part REP42. New source heaters are also available.
Covers SIS products, services, promotions, news, and other mass spectrometer related information.