Adam PW Analytical Balance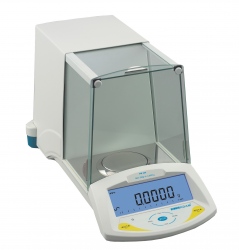 The new PW line delivers the ultimate in speed and accuracy in an analytical balance. Built with the most advanced weighing technology available today, the PW sets a new industry benchmark for reliability, durability and ease-of-use.
PW balances offer improved response time and enhanced stability, with an array of innovative new features added with one goal in mind â€" to simplify even the most complex lab applications.
Critical data always in view Oversized backlit LCD dual display allows simultaneous viewing of weighing data alongside reference data. Customize the secondary data line with the user-friendly keypad to show supporting information such as functions, menu prompts, piece weights, time, or date. The capacity tracker efficiently notifies the user of any approaching overloads.
A premium selection of weighing capabilities without the premium price No other analytical balance in this range can match the PW's versatility with up to 16 weighing units (including a custom unit) and 7 weighing modes including percentage weighing, check weighing, net/total formulation, density, parts counting, and animal / dynamic weighing. Durable inside and out The PW provides unmatched spill protection with sturdy solid aluminum construction throughout and smooth contours that divert overflows and drips. The sealed keypad, splash-proof design, and removable stainless steel pan all provide added defense against messy lab conditions. Overload protection safeguards the load cell.
Better readings simplified The PW's new shape provides improved chamber access even when the balance is located in a crowded equipment set-up. User-selectable digital filters automatically compensate for drafts and temperature changes while color-coded dual-tare keys simplify full range taring.
Designed to adapt to user's changing communication needs The PW is designed to accommodate lab's varied communication demands with two ports supplied as standard. The bidirectional RS232 interface quickly transmits data from the first port to printers, computers, and other communication devices. Plus a second port for future expansion.
Peace of mind with a complete security system Password protection software prevents unauthorized usage and access. An integral mounting point is compatible with the optional Kensington™ type lock/cable device, the best anti-theft device available today. Calibrations can be certified at any time by deactivating the internal calibration masses so that traceable external calibrations can be performed. And all models can be configured to print GLP-compliant reports after each calibration.
Features
16+ Weighing units (including one custom unit)
Selectable digital filtering for animal / dynamic weighing
Adjustable filters
Simple user-friendly operation
Full range tare
Zero Tracking
Date and time
Multilingual display
Large backlit display with dual text prompts
Capacity tracker
Large stainless steel pan
Force restoration mechanism
Solid metal housing
Non-slip adjustable levelling feet
Lock down mounting slot for Kensington™ type lock and cable
Dual tare keys
Colour coded, sealed keypad
Splashproof to protect from accidental spills
RS-232 bi-directional interface
GLP print outs
Internal calibration
External calibration
AC Adapter
Applications
Weighing
Net / Total
Check weighing
Percentage weighing
Weight accumulation
Parts counting
Animal / dynamic weighing
Density determination
Below balance weighing
Technical Specification
Model
PW 124
PW 184
PW 254
Capacity
120g
180g
250g
Readability
0.0001g
0.0001g
0.0001g
Repeatability (S.D)
0.0001g
0.0001g
0.0001g
Linearity (+/-)
0.0002g
0.0002g
0.0002g
Pan Size
90 mm ø / 3.5" ø
General Specifications
Weighing units
16 weighing units including 1 custom unit
Application
Weighing, parts counting, percentage weighing, density of solids and liquids, check weighing, animal / dynamic weighing, net / totalization
Features
Internal calibration with programmable automatic calibration for time and temperature
Lock down Kensington™ type mounting point
GLP-compliant print outs via RS232 connection
Date and time stored in memory
Below balance weighing with optional hanger
Digital filters compensate for vibration, drafts or temperature changes
Upgrade / update software through our online service facility
Tare range
Full capacity by subtraction
Stabilization time
Typically 2-4 seconds
Interfaces
Bi-directional RS232, with a second communications port
Operating temperature
32°F to 104°F / 0°C to 40°C
Power supply
12VAC 500mA 50/60 Hz from external adapter
Calibration
Automatic internal with external calibration correction
Display
Backlit LCD display with dual digits and capacity tracker, 24mm / 1" high digits
Housing
Die cast aluminum
Gross weight
Approx. 18 kg/40 lb
Draft shield dimensions (w x d x h)
202 x 158 x 215mm / 7.9" x 6.2" x 8.5"
Accessories Available:
No.8023 Adam Printer
No.9192 Thermal Paper for Adam Printer (5 Pack)
No.8036 Anti-Vibration Table
No.7452 Density Determination Kit
No.7995 Below Balance Hanger
No.8030 Security Lock and Cable
No.8003 Dust Cover
No.9028 RS-232 Cable
No.9061 AdamDU - Data Collection Program
No.9066 USB to RS-232 Interface Cable
No.8031 In-use Cover
---
Ordering
Adam Equipment has been providing professionals with quality balances and scales for over 30 years. The company is certified to ISO 9001:2000.
Adam Equipment manufactures and distributes a complete selection of mass measurement products for the laboratory, medical, educational, industrial and retail markets. All Adam balances and scales are backed by Adam Assurance Warranties with responsive and reliable service before, during and after the sale.
Other pages linking here:
Covers SIS products, services, promotions, news, and other mass spectrometer related information.