Adam PMB Moisture Analyzer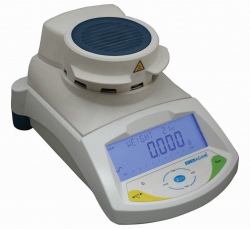 Adam Equipment's PMB moisture balances set a new standard for data communication making recording results faster and easier. Use the USB interface and connect a memory stick to download the results as they are taken and store them for future analysis, no need for additional software to take readings from the balance giving the user total freedom to collect data on a production floor or in the field.
The PMB's fast response time and easy-to-use functionality make it the ideal moisture analyzer for a range of different applications. The automatic test setting function lets you quickly run multiple tests without additional user input and the built-in memories let you store that data future reference. The PMB offers smart features that have been developed to give you the ultimate performance for moisture analysis.
With over 35 years of experience in the production of weighing instruments you can trust Adam for quality products that offer a range of features designed for a variety of applications.
PMB Highlights:
Navigating the built in applications is easy with the intuitively designed keypad. Access to the main functions is quick and a special lock out feature allows the supervisor to set up access to all or certain functions so users do not inadvertently change the settings. The color coded keypad highlights the tare and start keys for easy recognition.
Multiple communications options let you pick the right interface for your needs. USB and RS-232 both included as standard. Supports USB flash drive with automatic record keeping function to save each test result.
Store a range of procedures for different products that can be recalled at a touch of a button, to make setup and changing from one product to another simple.
Features
The PMB takes the hassle out of moisture analysis for fast and accurate results.
USB host for memory card and USB I/O interface
RS-232 interface
Built-in memories for storing products and settings
3 settings for heating sample, ramp up, step and standard
Soft close door to protect heating element
Automatic test start setting for when the lid is closed
Pan lifter to easily remove samples
Large backlit display with dual text prompts
Security locking slot for kensington™ type lock and cable
ShockProtect™ overload protection
Technical Specifications
Model
PMB 53
PMB 202
Capacity
50g
200g
Readability
0.001g / 0.01%
0.01g / 0.05%
Repeatability (S.D.)*
0.005g / 0.05% (10g sample)
0.02g / 0.2% (10g sample)
Pan Size
90mm ø / 3.5´ ø
Temperature Range
50°C to 160°C in 1°C intervals
Analysis Time
Max 99 minutes
Program Timing
Manual shut off, Timed, Auto, Timed/Auto
Weighing Units
g (grams), % M (percent moisture), % S (percent solids), ATRO % M (percent moisture / dry bases) ATRO % S (percent solids / dry bases)
Languages
English, German, French, Spanish
Stabilization Time
2-3 secs
Interface
USB Host, USB I/O, RS-232
Internal Memory
Up to 99 test results, 49 Programmable user settings for configuration
External Memory
External memory available with USB drive for additional configurations and to store test results
Calibration
External
Heating Element
Single 400W halogen heater
Heating Options
Standard (one step), Step - up to 3 temp setting, Ramp
Display
Backlit LCD display with dual digits and capacity tracker, 1´ / 24mm high digits
Power Supply
Power cord, factory set for 110v or 220v 50/60hz
Operating Temperature
32° -104°F / 0° - 40°C
Overall Dimensions
14´ x 9.8´ x 7.3´ / 360 x 250 x 185mm (LxWxH)
Net Weight
13lb / 6kg
Accessories Available
No.2410-10 Disposable Aluminium Sample Pans (Pack of 10)
No.8030 Security Lock and Cable
No.9028 RS-232 Cable
No.9304 USB Cable
No.8023 Adam Printer
No.9061 AdamDU - Data Collection Program
No.9066 USB to RS-232 Interface Cable
No.9192 Thermal Paper for Adam Printer (5 Pack)
Data Sheet
Ordering
Other pages linking here:
Covers SIS products, services, promotions, news, and other mass spectrometer related information.