Features
Single syringe infuse/ withdraw with program option for 2 programs. 50 steps each. Accommodates syringes 0.5 ul to 60 mL. User definable flow rates with selectable target volume or time values to control the total infusion volume.
Holds one syringe from 0.5 ul to 60 mL
High resolution color touch screen
Unparalled ease of use
Touch pad "lock" feature
LED light on front panel
Full metal chassis
Built in syringe table
Up to 30 lbs linear force
Advanced microstepping techniques
Built in RS485 interface
USB port
I/O & TTL interface
Continuous mode of operation
Spill dam
Programmable
Specs
Specifications
Accuracy
+/- 0.5%
Reproducibility
+/-0.05%
Syringes (min/max)
0.5 µl to 60 mL
Flow Rate

Minimum (0.5 µl syringe):1.28 pl/min.
Maximum (10 mL syringe): 25.99 Ll/min
Maximum (60 mL syringe): 88.28 mL/min

Display (min/max)
4.3 WQVGA TFT Color
Display with Touchpad
Non-Volatile Memory
Stores all Settings
Connectors (min/max)

RS485 - IEEE-1394 6 pos
USB - Type B
I/O & TTL - 15 pin D-Sub Connector

Linear Force (Max)
13.6 kg (30lbs)@ 100% Force Selection
Drive Motor
0.9 Stepper Motor
Motor Drive Control
Microprocessor with 1/16 microstepping
Number of Microsteps per one rev. of Lead Screw
15,360
Step Revolution
0.069 µm/step
Step Rate - Minimum
27.5 sec/µstep
Step Rate - Maximum
26 µsec/µstep
Pusher Travel Rate - Minimum
0.15 µm/min.
Pusher Travel Rate - Maximum
159 mm/min
Power
100 - 240 VAC: 50/60 Hz, 50W, 0.5A fuse
Dimensions
22.6 cm x 19.05 cm x 15 cm (9" x 7.5" x 5 ")
Weight
2.66 kg (5.9 lbs.)
Operating Temperature
4 °C to 40 °C (40 °F to 104 °F)
Storage Temperature
-10 °C to 70 °C (14 °F to 158 °F)
Humidity
20% to 80% RH non condensing
Dual Rate System
The Legato 110 DRS is a dual rate system that can deliver two synchronized independent flow rates. We provide the system with two Legato 110 Infuse/Withdraw syringe pumps along with an Input / output communications cable. Using the built-in multi-step programming available in both Legato 110 pumps, the user can create profiles to suit their specific application. We can also help create these programs if necessary.
Part No.
Description
Price
EA
Order
788110
Legato 110 Single Syringe I/W programmable, Legato 110, 110V/220V
$2536.00
DRS
788110DRS
Legato 110 Legato 110 DRS, 110V/220V
$4887.00
* Standard lead-time for non-stock items is approximately two weeks depending on the item.
Ordering information. International (non-US) prices available through your local dealer.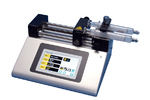 KD Scientific Legato 111 Dual Syringe Infusion Withdrawal Pump - Programmable
Dual syringe infuse/withdraw with program option for 2 programs.