Categories:
Vacuum Pump Accessories
Alcatel Vacuum Pump Maintenance Kits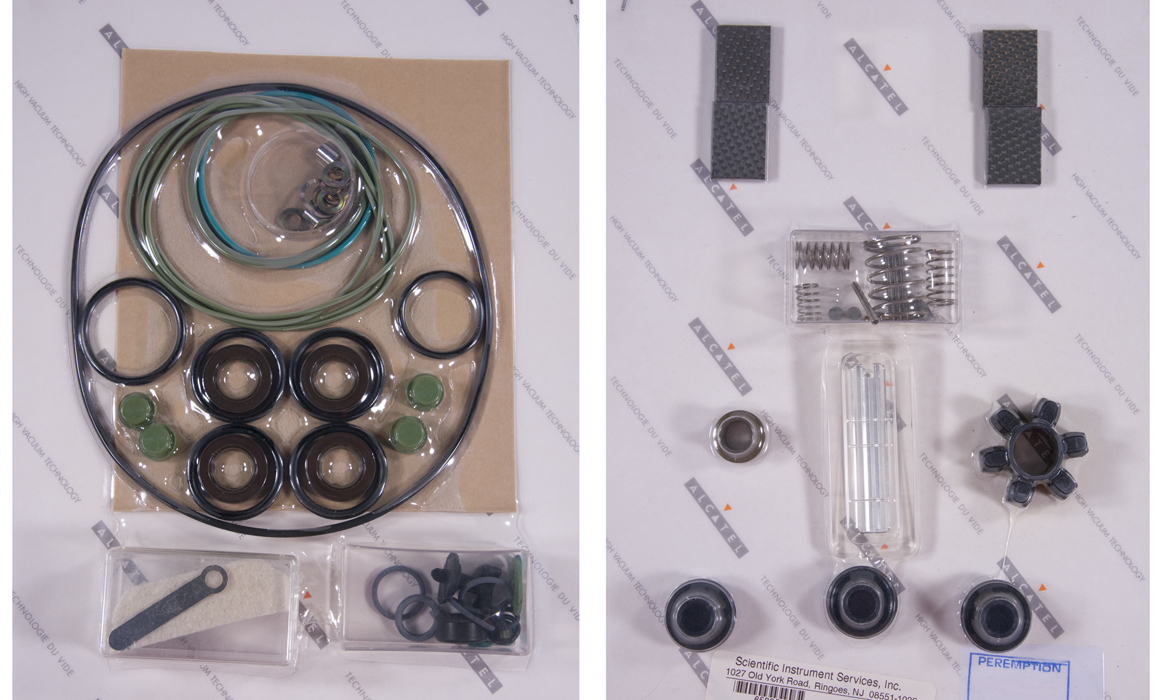 To simplify pump maintenance in the field, Alcatel offers field maintenance kits. A Minor Maintenance Kit contains all necessary O-rings, shaft seals and gaskets normally required for internal pump repair. A Major Maintenance Kit contains all the O-rings and seals found in the Minor Maintenance Kit plus vanes, anti-suckback valves, and other key parts recommended for a complete pump overhaul. Minor Kits are recommended for minor pump service when a complete pump cleaning and overhaul is not required.
If one is anticipating the complete disassembly and cleaning of a vacuum pump, the Major Kit is recommended. Due to the amount of time and effort it takes to disassemble and overhaul a pump, it makes sense to replace all wearing parts within the pump. Complete pump overhaul is recommended every one to two years depending on the use (and abuse) that the pump received. Pumping of caustic or corrosive vapors (as well as large amounts of water vapors) will increase internal pump wear, reducing pumping efficiency and requiring a complete pump repair. The methods and procedures for Alcatel pump overhauls are described in "The Mass Spec Handbook of Service", Vol. I, available from this catalog (Part #MSHS-1). Frequent oil changes will greatly reduce the frequency of pump overhaul.
---
Narrow within by keywords:
People who purchased the above items also purchased