Product ID : VGI27
VGI27 6mm Ceramic Spacer, O.D.(in.)=.184, I.D.(in.)=.116, Thickness (in.)=.236
Description
More details on associated web pages: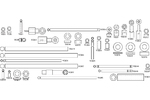 Ceramic Insulators for Fisons/VG
Replacement insulators for your VG mass spec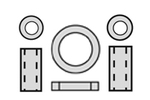 Ceramic Washer Insulators
A wide variety of alumina ceramic washers.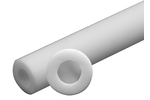 Single Hole Round Ceramic Tube Insulators
The tubes are constructed of a pure 99% alumina ceramic that has superior gas and vacuum tightness and excellent insulating properties even at elevated temperatures.
Agilent (Hewlett Packard) Ceramic Insulators
The following ceramic insulators are made from high purity alumina ceramic.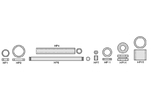 Ceramic Insulators for Agilent MS
Replacement insulators for Agilent mass spectrometers.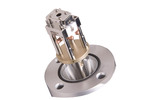 Perkin Elmer Inner Source Cleaning
Scientific Instrument Services provides a mass spectrometer source cleaning service. We can expertly clean and service most models of mass spectrometer sources including filament repair. Fast turn-around of repairs. Cleaning of entire source block, lenses, insulators, filament and repeller assembly.