Product ID : OTF410
OTF410 Glass Filled PTFE Ferrules, pkg of=10, ID=1/4 in
Description
More details on associated web pages:
Thermo/Finnigan Ferrules for Glass Jets and GC Columns

Ferrules, Jet Separators, and GC column.

Thermo/Finnigan Part Number Cross Reference

Scientific Instrument Services carries a wide selection of parts for all models of Thermo/Finnigan mass spectrometers. In order to aid you in the selection of replacement parts for your instrument, the following part number cross reference chart can be used. If a part number is not listed, it either means we do not have that part in our inventory or perhaps we are not aware of the Thermo part number in relation to our inventory. If you are looking for a part not listed below, use our Search Syst...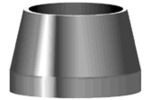 Thermo/Ferrules for columns and Jets on Finnigan MS
Ferrules, Jet Separators, and GC column.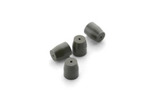 SGE Graphitized Vespel® Ferrules
Vespel® ferrules contain 15% graphite and are ideal for glass and fused silica capillary columns.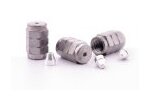 SGE Ferrules for GC
standard graphite ferrules (for GC applications)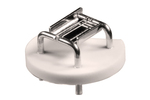 Thermo, Varian Saturn, Agilent, Teledyne & Hitachi Ion Trap Filaments
Quality replacement filaments for your Ion Trap mass spectrometer. For Saturn model 2000, 2100, 2200 series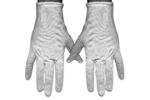 Nylon Gloves
Nylon, lint free, durable, and ambidextrous.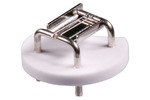 Filament Repair Services for Mass Spectrometers
Mass Spectrometer filaments and heaters can be repaired and restored to a like-new condition at S.I.S.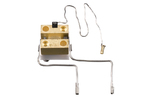 Perkin Elmer / Torion / Hitachi Filament Repair
All RMU filaments and heaters are repairable.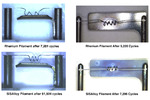 SISAlloy® Yttria/Rhenium Alloy MS Filaments
SIS introduces their new Yttria Rhenium alloy filament wire. In these studies we have discovered that by alloying Rhenium with a small concentration of Yttria, the crystal structure of the rhenium material was altered, which resulted in a stronger filament that is much less susceptible to warping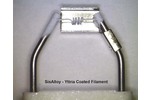 Long Life Yttria Coated SISAlloy® (Yttria/Rhenium Alloy) Mass Spec Filaments
SIS can repair your filaments with our non-sagging filament wire (SISAlloy® yttria/rhenium alloy with yttria coating). Users have experienced filament lifetime increases of 2 to 3 times compared to the standard uncoated rhenium filaments.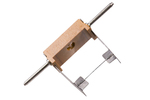 Agilent/HP Filament Repair at SIS
We will completely clean the assembly and replace the rhenium filament wire.