Product ID : FS3607515N20
FS3607515N20 Electrospray: Uncoated Fused-silica PicoTips, Tube OD (um)=360, Tube ID (um)=75, Nominal Tip ID (um)=15+-1.5, Flow Range (nL/min)=200-500, pkg of=20
Description
More details on associated web pages:
New Objective Electrospray Fused Silica PicoTips™
Nanospray / Electrospray tips available from Scientific Instrument Services, Inc.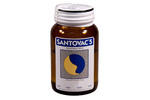 Santovac 5 polyphenyl ether vacuum pump fluid
Santovac 5 is the industry standard oil for diffusion pump.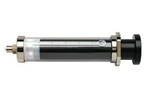 Gas Tight 1 mL to 100 mL Syringes
SGE gas tight syringes in many sizes and functions.
Fitting Kits
Fittings and Connectors by New Objective for HPLC.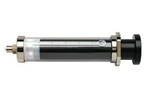 Gas Tight 10 µL to 500 µL Syringes
Plungers are interchangeable on these syringes.