Product ID : FILREPYA
FILREPYA Filament repair with SISAlloy[R] yttria/rhenium alloy wire + yttria coating
Description
More details on associated web pages: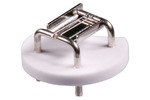 Filament Repair Services for Mass Spectrometers
Mass Spectrometer filaments and heaters can be repaired and restored to a like-new condition at S.I.S.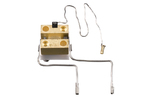 Perkin Elmer / Torion / Hitachi Filament Repair
All RMU filaments and heaters are repairable.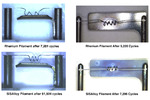 SISAlloy® Yttria/Rhenium Alloy MS Filaments
SIS introduces their new Yttria Rhenium alloy filament wire. In these studies we have discovered that by alloying Rhenium with a small concentration of Yttria, the crystal structure of the rhenium material was altered, which resulted in a stronger filament that is much less susceptible to warping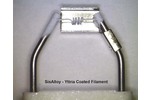 Long Life Yttria Coated SISAlloy® (Yttria/Rhenium Alloy) Mass Spec Filaments
SIS can repair your filaments with our non-sagging filament wire (SISAlloy® yttria/rhenium alloy with yttria coating). Users have experienced filament lifetime increases of 2 to 3 times compared to the standard uncoated rhenium filaments.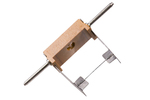 Agilent/HP Filament Repair at SIS
We will completely clean the assembly and replace the rhenium filament wire.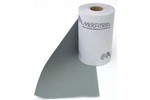 Micro-Mesh® Regular Rolls
Micro-Mesh® Regular Rolls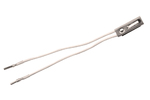 Agilent 5973/5975 Source Temperature Sensor by SIS
SIS offers a direct replacement for Agilent p/n G1099-60104. Same performance at a fraction of the cost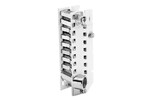 ETP ACTIVE FILM Multiplier(TM) for the Agilent (HP) 5973 MSD
For instruments: Agilent 5973/A/N MSD, Agilent 5975 (without TAD), Agilent 1100 LC-MSD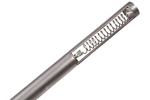 CDS Filament Repair at SIS
S.I.S. can repair filaments for many mass spectrometers.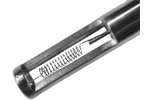 GC Pyrolysis
Pyrolysis probe repair, platinum coils and quality pyrolysis tubes.