Product ID : CPO3SA
CPO3SA CPO-3DS [3D, space-charge] [academic pricing]
Description
More details on associated web pages:
CPO "BEM" Charged Particle Optics Simulation Software

CPO is a general purpose particle optics simulation package, somewhat like SIMION, but based on the Boundary Element Method (BEM) of field calculation, supporting space-charge cathode emissions and field emitters.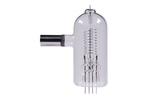 Agilent (Hewlett Packard) Mass Spec Ion Gauge Tubes
Our standard G75K Bayard-Alpert ion gauge tube will fit all models of HP mass specs except the HP5989 MS Engine.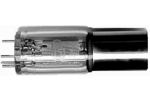 Triode Style and Mini Bayard-Alpert Ion Gauge Tubes
Triode and Mini Bayard Alpert style ionization gauge tubes are ideal for use in analytical instrumentation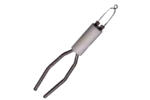 Thermo GCQ-DEP Probe
New Thermo GCQ-DEP Probe by SIS.