Product ID : CFSG01532025A
CFSG01532025A GC Capillary Column, ValcoBond, VB-WAX, ID (mm)=0.32, Length (m)=15, df (um)=0.25, Temp Range (C)=20 to 250/260
Description
More details on associated web page: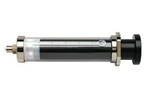 Gas Tight 10 µL to 500 µL Syringes
Plungers are interchangeable on these syringes.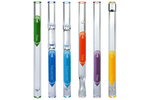 SGE GC Injection Port Liners
SGE offers a wide variety of injection port liners.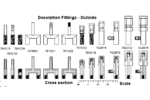 Desorption Tube Fittings
Fittings to connect our 1/4" O.D. GLT desorption tubes to your particular application.
ValcoBond VB-1 100% Methylpolysiloxanesiloxane GC Capillary Columns
Features: Nonpolar Low bleed MS certified High temperature limits (360/370 °C) Excellent inertness Bonded & cross-linked Solvent rinsable Equivalent to USP Phase G2 Guaranteed