Description
Scientific Instrument Services has redesigned the VG direct probe ceramic probe tip which holds the sample vials in place on the end of the probe. The VG originals were two pieces (VG #7025102 and #7050203). These were machined from soft MACOR ceramic. We have changed this to a one piece design for simplicity and ease of use. We have a hard alumina ceramic version, and a Vespel® type. The vespel is more durable, however, the heat transfer is not as good.
Part No.
Description
Quantity
In Stock
Price
EA
Order
VG50C
Ceramic VG direct probe tip
11
$135.00
VG50V
Vespel VG direct probe tip
0*

Standard lead-time for non-stock items is approximately two weeks depending on the item.

$138.00
* Standard lead-time for non-stock items is approximately two weeks depending on the item.
Ordering information. International (non-US) prices available through your local dealer.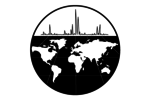 Tantalum Wire and Ribbon - Filament and Heater Material
Tantalum Wire and Ribbon is corrosion resistant and has good thermal conductivity. Some of its uses is in the manufacture of heating elements, vacuum tubes and other high temperature parts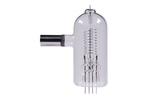 Agilent (Hewlett Packard) Mass Spec Ion Gauge Tubes
Our standard G75K Bayard-Alpert ion gauge tube will fit all models of HP mass specs except the HP5989 MS Engine.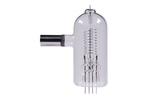 Ion Gauge Tubes, Bayard-Alpert Type
Bayard-Alpert Design and Dual Tungsten or Burn-out Resistant Iridium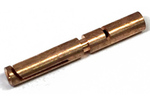 Push-On Crimp Contact/Thermocouples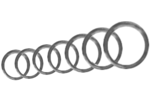 O Rings for Thermo/Finnigan Mass Specs
all types and sizes of O-Rings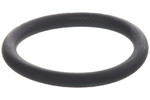 Viton® Composition O-Rings
O-Rings are available in five different materials from Scientific Instrument Services.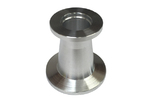 QF to QF Reducers, Aluminum
QF to QF Reducers, Aluminum fittings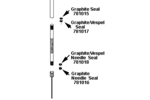 Seals for SIS Thermal Desorption Tubes
Seals are utilized in a variety of locations in the Short Path Thermal Desorption Unit.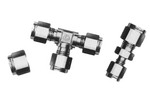 Swagelok® Fittings
A complete line of Brass and Stainless Steel Fittings for GC, MS and general laboratory use.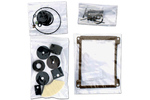 Edwards Vacuum Pump Maintenance Kits
Edwards pumps are designed to give long, trouble-free service.