Description
We are constantly adding insulators for JEOL and other manufacturer's instrument systems. The following alumina insulators are currently available for the JEOL Mass Spectrometers. If other sizes and/or types are required, please contact us, or send an old or damaged unit and we will see if we can supply it. All listed insulators are constructed from a high quality aluminum oxide ceramic unless otherwise noted.
All dimensions in inches, tolerances +/- 0.002 inches.
Ceramic Insulator, ID (in)=0.203
Part No.
JEOL Part #
OD (in)
Thickness (in)
Price
EA
Order
JC1
620011351
0.281
0.216
$17.00†

10 or more: 5% off; 50 or more: 10% off.

JC2
620011394
0.281
0.097
$20.00†

10 or more: 5% off; 50 or more: 10% off.

JC3
620011396
0.276
0.375
$29.00†

10 or more: 5% off; 50 or more: 10% off.

† Quantity discount 10 or more: 5% off; 50 or more: 10% off.
* Standard lead-time for non-stock items is approximately two weeks depending on the item.
Ordering information. International (non-US) prices available through your local dealer.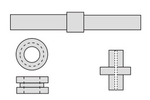 Other Ceramic Insulators
A variety of alumina insulators. Call for custom sizes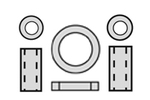 Ceramic Washer Insulators
A wide variety of alumina ceramic washers.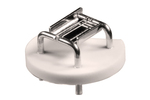 Thermo, Varian Saturn, Agilent, Teledyne & Hitachi Ion Trap Filaments
Quality replacement filaments for your Ion Trap mass spectrometer. For Saturn model 2000, 2100, 2200 series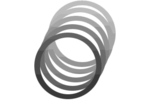 Copper and Gold Plated Cu Gaskets for Thermo/Finnigan MS
The following copper and gold plated copper gaskets are available for the vacuum flanges on Thermo/Finnigan mass spectrometers.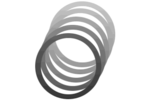 Varian Ion Trap Copper and Gold Plated Copper Gaskets
S.I.S. carries copper and gold plated copper gaskets for the Varian Saturn.
Copper Gaskets for Vacuum Flanges
The below listed vacuum flange copper gaskets are made from OFHC copper.