Description
Redesigned and Manufactured by SIS for the Thermo Incos 50 Series Mass Spectrometers
These filaments will eliminate the problem of shorting out which is common with the stainless steel filaments on the Incos 50 source.
As you can see from the photograph the posts protrude out of the middle of the filament and there is no metal in the back to short against the magnet. Also, there is no metal on the ends, which insulates the filament from shorting out in these areas as well. The 0.032 inch diameter leads can be cut to desired length depending on the configuration of your instrument.
These filaments can be connected to your leads with two push-on connectors (SIS Part# B11288-2) or stainless steel connectors (SIS Part #SCI)
*For Incos 50 only. Does not fit Incos 50B, 500 or XL.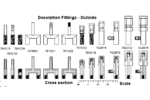 Desorption Tube Fittings
Fittings to connect our 1/4" O.D. GLT desorption tubes to your particular application.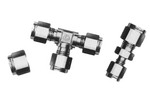 Swagelok® Fittings
A complete line of Brass and Stainless Steel Fittings for GC, MS and general laboratory use.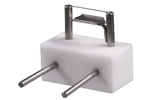 Thermo SSQ/TSQ, 70 and 700, 4500 Filaments
Stronger filament posts for better filament tension and harder filament ceramic body for accurate alignment.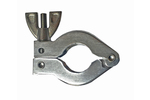 Wing-Nut Aluminum Clamp
Industry standard die-cast aluminum clamp.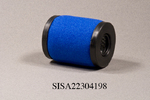 SIS Replacement Elements For Edwards Oil and Odor Filters - EMF10
SIS Replacement Elements For Edwards Oil and Odor Filters at a low cost.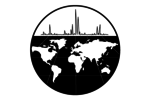 Parts for BOC Edwards Vacuum Pumps


(by Precision Plus)
19201007 : OEM=Edwards,Part Type=Valves,Description=Valve Piston,Pump Models=E1M40;E2M40,20404011 : OEM=Edwards,Part Type=Bearings,Description=Roller Bearing EM40,Pump Models=E1M40;E2M28;E2M30;E2M40,25904601 : OEM=Edwards,Part Type=Misc,Description=Ballast Valve E1M80,Pump Models=E1M40;E2M40,29201006 : OEM=Edwards,Part Type=Sight Glasses,Description=Sight Glass E1M80,Pump Models=E1M40;E1M80;E2M40;E2M80,00307046 : OEM=Edwards,Part Type=Springs,Description=SPRING,Pump Models=E1M18;E2M18,00714012 :...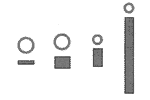 Ceramic Insulators for Thermo/Finnigan Incos Mass Spec
Alumina ceramics for the Incos 50 Source.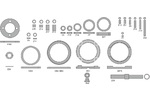 Ceramic Insulators for Thermo
The following alumina insulators are currently available for the Thermo instruments.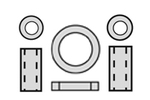 Ceramic Washer Insulators
A wide variety of alumina ceramic washers.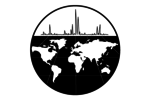 Platinum Wire and Ribbon
Platinum Wire is used in many applications including gasket or o-ring fabrication, thermocouples, electrical contacts, and heater coils.