Features
High temperatures and rapid thermal response. Maximum exposure temperatures up to 1400 °F
Perfect for a wide range of applications including heating laboratory apparatus, gas tubing, temporary heat, valves, and more!
Exceptional flexibility and durability
Suitable for electrically conductive surfaces
Choice of power leads on same end or opposite ends
Wide range of sizes
Includes 9" (230 mm) long high temperature tie downs for easy installation
Description
BriskHeat® Heavy Insulated Heating Tapes are low-watt density, electrical resistance heaters designed for temperature maintenance in laboratory applications. Heavy insulated tapes are constructed of finely stranded resistance wires, double insulated with braided Samox and knitted into flat tapes with Samox yarn The insulated tape is covered with a knitted heavy fiberglass fabric sheath. Briskheat's unique tape construction provides the flexibility necessary for laboratory applications and puts more heating surface in direct contact with the apparatus than any parallel element heating tape.
Specs
Maximum Exposure Temperature: 1400 °F (760 °C)
Samox knit and braided construction
Multi-stranded resistance wire for increased durability and flexibility
Samox outer sheath
Suitable for electrically conductive surfaces
Power lead on same end
Power density:

Widths up to 1" (25 mm): 13.1 watts/in2 (0.020 watts/mm2)
1.75" (44 mm) width or greater: 7.7 watts/in2 (0.012 watts/mm2)

Suitable for electrical conductive surfaces
120 VAC (240 VAC available on request)
Includes high temperature tie downs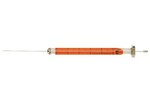 SGE Autosampler Syringes
Autosampler Syringes available in dual and cone tip.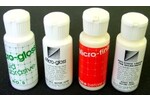 Micro-Mesh® Compound Sampler
Micro-Mesh® Liquid Abrasives and Other Compounds Sampler Kit.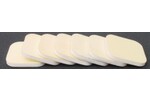 Micro-Mesh® Aluminum Oxide Soft Touch Pads
Micro-Mesh® Aluminum Oxide Pads