Product ID : 30088
30088 Photonis Channeltron® 4765G Electron Multiplier
Features
For instruments: Thermo/Finnigan ITD 700™, Thermo/Finnigan ITD 800™, Thermo/Finnigan ITS 40™, Thermo/Finnigan Magnum™, Varian Saturn I, II, II
Easy Replacement
Extended Linearity
Low Noise
Lower Cost
Longer Life
Greater Sensitivity
High Performance
Compact, On Axis Design
Wide Dynamic Range
Excellent Pulse Height Resolution
The Photonis Channeltron Mass Spec Detectors deliver high performance and are the preferred detector for mass spectrometers. A 100% test and inspection policy guarantees customers the highest quality and most reliable mass spectrometer detectors.
Description
For instruments: Thermo/Finnigan ITD 700™, Thermo/Finnigan ITD 800™, Thermo/Finnigan ITS 40™, Thermo/Finnigan Magnum™, Varian Saturn I, II, II
The Channeltron®; 4765 Mass Spec Detector offers the highest levels of performance for the Finnigan MAT Ion Trap Mass Spectrometers. If you use your Ion Trap for applications that demand ultimate sensitivity, superior linear response, and longer detector life, the 4765G Mass Spec Detector meets your requirements.
The sensitivity of any commercial Ion Trap Mass Spectrometer is ultimately a function of the sensitivity of its detector. We designed the 4765G to provide the lowest baseline noise of any commercially available detector. It includes a custom biasing scheme, tailored to provide low coupling capacitance between the high voltage and signal leads for the lowest baseline noise level.
Superior linear response from the 4765G Mass Spec Detector results in accurate quantification of mass spectral data for both trace and high level analyses. Our custom biasing scheme allows the 4765G to provide an absolutely linear response well beyond the limits of the instrument.
Longer detector life begins with a consistently low tune voltage. The gain response of the 4765G is specifically tailored for a lower tune voltage. Our optimized processing then ensures that the tune voltage stays low, providing you with consistently accurate results. This longer detector life results in less instrument downtime, making the 4765G the most economical detector available for your Ion Trap.
Easy, accurate installation of the 4765G Mass Spec Detector is guaranteed with our Quick-Fit™ mounting system. The detector simply snaps into the instrument in seconds, minimizing instrument downtime.
The newest technologies and the highest performance from the world's largest supplier of standard, retrofit and custom detectors for mass spectrometry. Channeltron™ - the first name in mass spec detectors
Specs
SPECIFICATIONS
Instrument
Finnigan ITD™ 700, 800, ITS40™ and Magnum™ GCMS
Performance level
High sensitivity; Extended linear dynamic range; Extended detector life
Linear Range
> 1 microamp output current
Configuration
Quick-Fit™ snap-in mounting hardware
Gain
≥ 1 x 105 at 1700V ≥ 1 x 107 at 2700V
Resistance
50 to 90 x 106 ohms at 25 °C
Dark Current
≤ 1 x 10-12 amps at -2000V
Max recommended Operating voltage
3000V
Warranty
Photonis Electron Multipliers are designed and manufactured to the highest standards in the world. It is warranted against all defects in materials and workmanship for one year after installation. In addition, if you install your electron multiplier and are not completely satisfied with its performance, return it promptly for replacement or refund.
---
The information furnished is believed to be accurate and reliable, but is not guaranteed and is subject to change without notice. No liability is assumed by Photonis or SIS for its use. Performance data represents typical characteristics and not specifications as actual, individual product performance may very. Customers should verify that they have the most current Photonis product information before placing orders, and should independently test and evaluate Photonis products for their intended use. No claims or warranties are made as to the application of Photonis products or their suitability or fitness for any particular purpose. This document may not be reproduced, in whole or in part, without the prior written consent of Photonis.
Copyright 2002-2016 by Photonis, Inc. All rights reserved. MAGNUM™, MAGNUM™ ELECTRON MULTIPLIER and SPIRALTRON™ are trademarks of Photonis. All other trademarks are the property of their respective owners. BURLE® and Phontis® are registered trademarks of Photonis, Inc.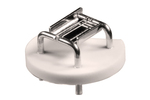 Thermo, Varian Saturn, Agilent, Teledyne & Hitachi Ion Trap Filaments
Quality replacement filaments for your Ion Trap mass spectrometer. For Saturn model 2000, 2100, 2200 series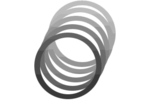 Copper and Gold Plated Cu Gaskets for Thermo/Finnigan MS
The following copper and gold plated copper gaskets are available for the vacuum flanges on Thermo/Finnigan mass spectrometers.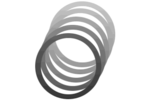 Varian Ion Trap Copper and Gold Plated Copper Gaskets
S.I.S. carries copper and gold plated copper gaskets for the Varian Saturn.
Copper Gaskets for Vacuum Flanges
The below listed vacuum flange copper gaskets are made from OFHC copper.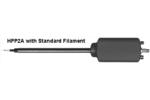 DCI/DEP Probe for HP and Other MS
The DCI probe utilizes a replaceable filament wire at the end of the probe which serves to both hold the sample and heat the sample.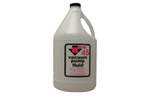 Inland 45 Mechanical Pump Oil
Inland 45 is the highest quality rough pump oil you can use for your mass spectrometer.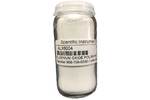 600 Grit Aluminum Oxide Cleaning Abrasive
The ALX6004 superfine aluminum oxide cleaning abrasive is the finest grit aluminum oxide abrasive.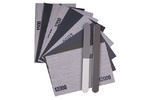 Micro-Mesh® Sheet Kits
Micro-Mesh® Craftsman Kits