PicoView® ESI Sources from New Objective
High-Sensitivity Nanospray Sources
The PicoView® nanospray source increases sensitivity while providing the ultimate in flexibility and control over your experiment. Designed specifically to maximize the PicoFrit® technology, PicoView enables subfemtomole proteomics and biomolecule analysis at flow rates from <10 ml/min. to 4 µL/min.
Benefits
Magnetic interlock stage plate allows easy emitter removl or modification from inside or outside the source housing without the use of tools*
Versatile tip-mounting option allows for junction or tip-style high-voltage contact
Fully compatible with all fused-silica PicoTips®, including PicoFrit® columns
imaging system with visual or video imaging lets user see the tip and spray for easy tuning and troubleshooting
Modular mounting platform is user configurable for multiple applications, with controllable tip angle for optimum signal
XYZ Stage with high-precision ball bearing for exact positioning
universal valve mount for manual or automatic valves positioned close to the emitter to minimize system-wide swept volume*
* Available on PV150, PV400 and PV500 only.
Features

A. Junction or Tip Contact. Whether you need to establish a high-voltage junction contact with the platinum wire MicroTee electrode or tip contact through the conductive coating on a PicoTip® and a zero dead-volume union, the PicoView® easily accommodates both styles.
B. High-Resolution Video Imaging. 50x-200x System magnification provides optimal viewing of PicoTips® for easy tuning and troubleshooting. Camera is easily positioned and focused with knob-driven controls.
C. Magnetic Stage for Tool-Free Setup. Change emitters or modify your experiment out of the box quickly and easily — no screws or clamps and no tools required. The magnetic interlock stage snaps back into place easily and with minimal reoptimization.
D. Integrated Valve Mount. The PicoView® source provides an integrated valve mount to help keep system swept volume as low as possible. Component arms organize plumbing for quick and efficient setup and modification.
It's About Sensitivity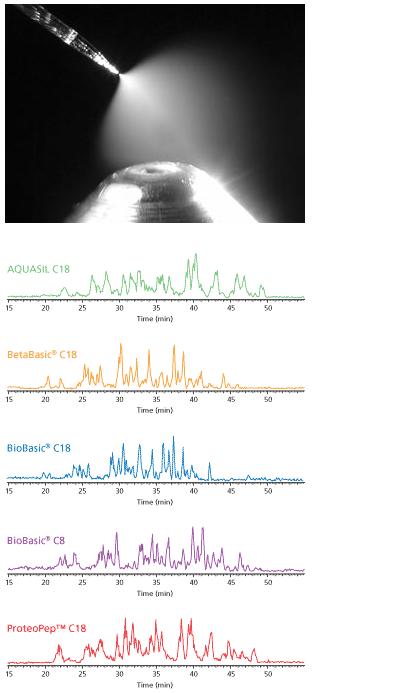 The PicoView® system is all about sensitivity. Spraying directly off of the column with PicoFrit® columns, a correctly tuned spray, and athe flexibility to control each element all work towards maximizing sensitivity. And because the PicoView system makes it so simple to increase your sensitivity, it helps to maximize your results.
PicoView's® modular design allows for quick modification of your experimental method. In the series shown, the ability to change sample traps quickly afforded rapid method development. Several different trap chmistries were easily studied to determine the most selective method for analysis. The test sample was composed of a mixture of five different trypsin digests.
>> Figure:
Base peak reconstructed ion chromatogram for full-scan MS data of a trypsin digest mixture on a ProteoPep™ PicoFrit
®
column incorporated with five different sample trap materials.
PicoView® Source Ordering Information
By instrument:
| | |
| --- | --- |
| PV150 For Thermo Finnigan™ LCQ Classic™, Deca™, and Advantage™ | PV400 For Applied Biosystems QSTAR® and 3000 |
| PV500 For Thermo Finnigan™ LCQ Deca XP™ and Deca XP™ Plus | PV550 For Thermo Finnigan LTQ™/LTQ-FT™ LTQ Orbitrap™, and Deca XP Max™ |
High Magnification Kit
Add Taylor cone visualization capability to your PV150, PV400, or PV500/PV550 with this lens kit. 4x and 6.5x objective lenses provide very high magnification imaging for emitter tip and cone.
High-Voltage Contact Upgrade for PV-100
This gold-plated spring bellows replacement assembly provides optional long-term reliability and durability to PicoView® 100 system voltage modules. Easy assembly instruction included.
Other pages linking here: