OEM Application Syringe Pumps
---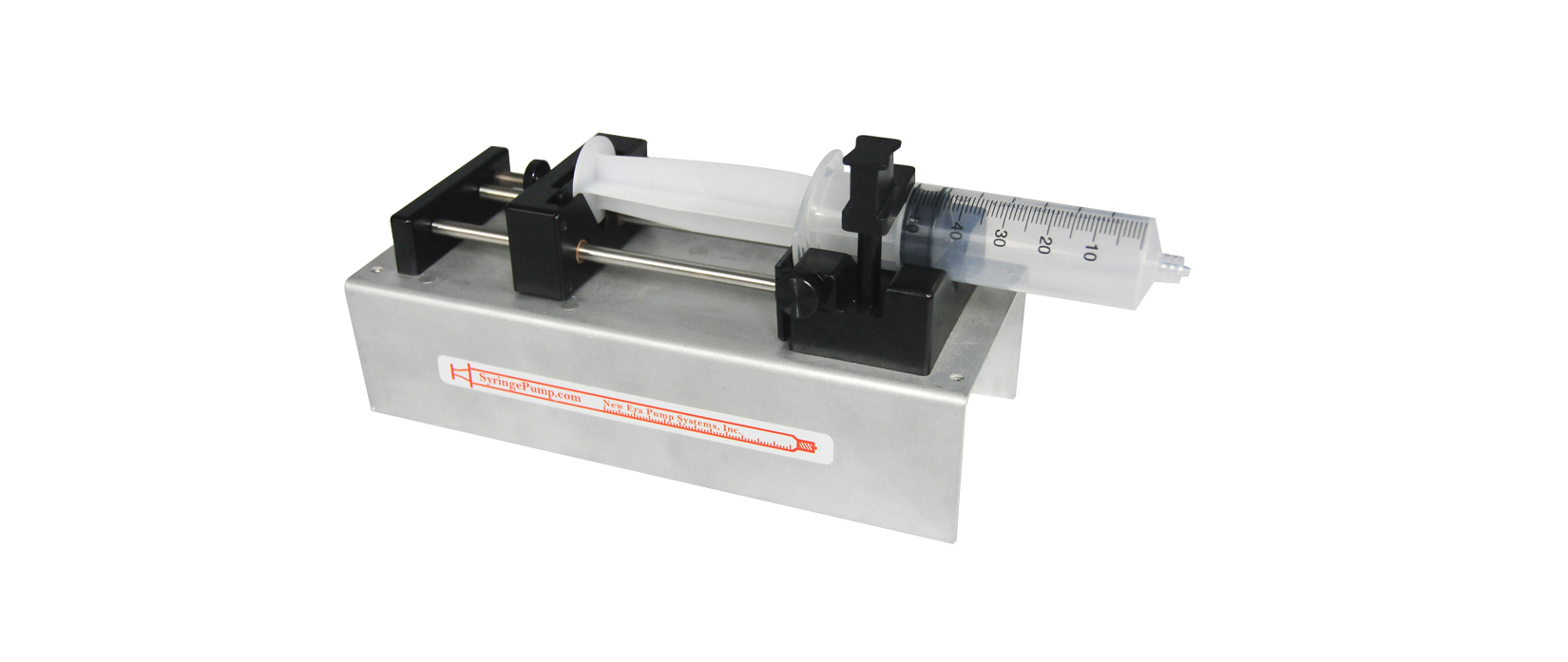 NE-500 does not come with a power supply. Please see OEM Starter Kit and OEM Net below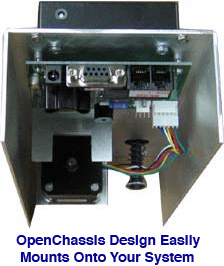 Features
Computer controllable: networkable up to 100 pumps
Stand-alone operation:Pre-program the pump with a dispensing program, then operate the pump from an attached Foot Switch, button, or I/O controller
Add the OEM Starter Kit to run as a fully functional, stand-alone pump
Does not have a built-in user interface
Chassis mountable: 9 1/2&quotL x 4 1/4&quotW x 4 1/8&quotH
Operates from a 12V DC power source
Operates from a computer
Infusion and withdrawal
Available in High Pressure, Stall Detection & Long Chassis options.
Holds 1 syringe up to 60cc
Infusion rates from 0.73µL/hr (1 cc syringe) to 2100 ml/hr (60 cc syringe)
Set a single pumping rate and/or dispensing volume
Program up to 41 pumping phases that change pumping rates, set dispensing volumes, insert pauses, control and respond to external signals, sound the buzzer
Network, control, and monitor up to 100 pumps with one computer
Motor stall detection available in NE-501 model
Dispensing accuracy of +/-1%
Unlimited lifetime technical support
Two year warranty
Disposable, Glass, Stainless Steel Syringes and Plumbing Supplies are sold separately.
Download free pump terminal emulator or check out Windows based SyringePumpPro
Example Flow Rates (NE-500, NE-501, NE-500L, NE-501L)
Syringe Size
(cc)
Maximum Rate
(mL/hr)
Minimum Rate
(µL/hr)
0.5µL
25.49
0.001
1
53.09
0.73
3
192.5
2.646
5
406.1
5.581
10
600
8.244
20
975.8
13.41
30
1282
17.63
60
2120
29.13
Sample syringe configurations, can hold any size syringes below 60 cc.
NE-500 OEM Single Syringe Pump Models
Model
Standard
High
Pressure
Stall
Detection
Long
Chassis
NE-500
X
NE-501
X
X
NE-510
X
NE-511
X
X
NE-500L
X
X
NE-501L
X
X
X
NE-510L
X
X
NE-511L
X
X
X
High Pressure
The NE-500 produces about 15 lbs. of linear force at top speed and about 35 lbs. at slow speeds. 10 ml/hr is an example of slow speed. The pressure that can be generated is relative to the syringe size. On a 60 ml syringe, this would roughly produce about 30 psi.
The higher pressure version will approximately double the pumping force at the same speeds.
Example Flow Rates (NE-510, NE-511, NE-510L, NE-511L)
Syringe Size
(cc)
Maximum Rate
(mL/hr)
Minimum Rate
(µL/hr)
0.5µL
91.83
0.001
1mL
191.2
1.459
3
693.4
5.291
5
1462
11.17
10
2160
16.49
20
3514
26.82
30
4619
35.25
60
7635
58.26
Stall Detection
Includes an optical encoder on the NE-500 that will detect and stop the motor during a stall. Typically used in high pressure applications where there is a reisk of exceedin the maximum force specified. Without the optical encoder, the pump will continue to cog the event of a stall.
Long Chassis
Will hold and allow 140 ml syringe to open to its full extent.
---
---
Extra Features: X upgrade features Linear/Gradient flow rate ramping, additional advanced programming possibilities, and additional i/o functions, attach external switches, sub program selection structure, speed control switch interface.
Extra Features: X2 upgrade includes all features of the X model plus increases the number of programmable phases from 41 to 340, and increases the mas RS-232 baud rate toe 38,400.
---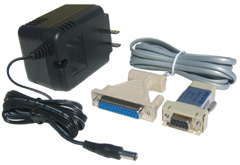 OEM Starter Kit: For NE-5xx OEM models only
Features
Allows user to interactively communicate to the pump with a computer
Power supply for the NE-500 OEM Pump
Needed for additional OEM pumps used in a pump network in a laboratory setting
Includes: power supply, Pump-to-PC network cable, and user manual
---
OEM-NET
Power supply and secondary cable only. For use when networking two or mor OEM NE-500 syringe pumps together. Must use the secondary cable in order to complete this application
---
Foot Switch
Features
Start, stop, or trigger the next phase on your syringe pump
Attach to an NE-500 to allow stand-alone operation
Utilizes the TTL logic port on syringe pump
Quick and simple setup
---