Categories:
◀
◀
◀

Glass Amber

Glass B.O.D.

Glass Dropping Bottles

◀
Clear Sample Bottles
With Plastic Snap Caps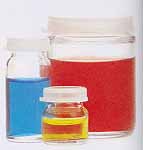 For collecting, storing and exhibiting a wide variety of specimens in lab or field. Caps snap over a special sealing ring to form an effective barrier to moisture, making these bottles especially suited for hydroscopic materials. Packed in convenient Lab File® cases. Wheaton "800" glass (meets USP Type III standards).
Ideal for field sampling, general lab use and with hydroscopic materials
Easily transportable from the field to the lab
Manufactured by Wheaton to the highest standards of quality and precision
Convenience packed - 1-4 dozen bottles per carton
Closures are attached in our Cleanpack facility ensuring safety and cleanliness