Features
Produces UHP Zero Grade Air from in-house compressed air at a fraction of the cost.
Eliminate inconvenient and dangerous air cylinders from the laboratory.
Compact wall mountable design frees up valuable laboratory space.
Complete, easy to install and operate.
Includes four years of maintenance supplies.
Increase the accuracy of FID detectors and ensure a consistently flat baseline.
Description
The Parker/Balston 75-83 Zero Air Generator is a complete system with carefully matched components engineered for easy installation, operation and long term reliability. The Generator includes coalescing prefilters with automatic drains, state-of-the-art heater module and a membrane final filter. The unit is much easier to install than dangerous, high pressure gas cylinders,and it only needs to be installed once! All that is required is a standard compressed air line and an electrical outlet. The units are easy to operate. There is no complicated operating procedure to learn or any labor intensive monitoring required. The Parker/Balston Zero Air Generator eliminates all the inconveniences and costs of cylinder gas supplies and dependence on outside vendors. Uncontrollable vendor price increases, contract negotiations, long term commitments and tank rentals are no longer a concern; the Balston system offers long term cost stability. There is no need to use valuable laboratory floor space to buy and store excessive reserves to protect yourself from late deliveries, transportation interruptions, or periods of tight supplies. With the Parker/Balston Zero Air Generator, you control your supply!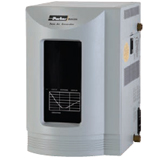 Figure: Larger HPZA models
Specs
Outlet Hydrocarbon Concentration (as methane)
75-83: <0.1 ppm Hydrocarbons,
HPZA-3500: <0.05 ppm Hydrocarbons,
HPZA-7000: <0.05 ppm Hydrocarbons,
HPZA-18000: <0.05 ppm Hydrocarbons,
HPZA-30000: <0.1ppm Hydrocarbons
Max. Air Flow Rate (outlet) for Specified
Hydrocarbon Concentration
75-83: 1 LPM,
HPZA-3500: 3.5 LPM,
HPZA-7000: 7 LPM,
HPZA-18000: 18 LPM,
HPZA-30000: 30 LPM
Inlet Air Pressure (max)
40 psig (min), 125 psig
Max. Inlet Hydrocarbon Concentration
(as methane)
100 ppm
Pressure Drop at Max. Flow Rate
4 psi
Max. Inlet Air Temperature
78 °F (25 °C)
Inlet and Outlet Ports
1/4" NPT
Start-up Time for Specified Hydrocarbon Concentration
(as methane)
45 minutes
Electrical Requirements
120 V 3.0 Amps
Shipping Weight
7 lbs.
Dimensions
12"h x 10"w x 3"d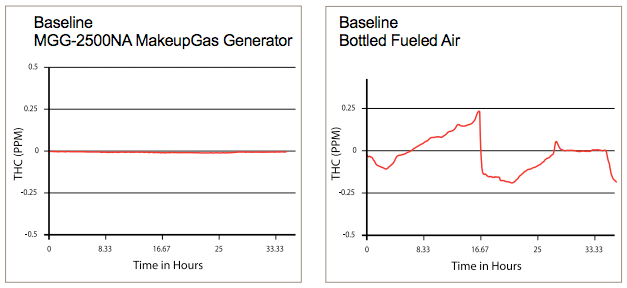 Base Line Comparison
The Chromatograms (right) compare baselines produced by a Parker/Balston Zero Air Generator (left) and Bottled fuel air (right). The baseline produced by the Balston Generator is very flat, with no fluctuations or peaks, in comparison with the chromatogram of the bottled air fuel supply, which has many peaks ranging from 0.25 ppm to -0.25 ppm.
Part No.
Description
Picture
UOM
Price
Order
7583
ZERO AIR GENERATOR 1.0LPM
EA
$2188.00
HPZA3500
ZERO AIR GENERATOR 3.5LPM
EA
$5752.00
HPZA7000
ZERO AIR GENERATOR 7.0LPM
EA
$9868.00
HPZA18000
ZERO AIR GENERATOR 18LMP
EA
$13180.00
HPZA30000
BALSTON ZERO AIR 30LPM
EA
$19006.00
Accessories
505005BX
BALSTON REPLACEMENT TUBES box of 5 (for 7583)
PK
$130.00
MK7583
PARKER BALSTON MAINTANENCE KIT-(2) PREFILTERS (1) FINAL FILTER for 7583 Zero Air Generator
EA
$427.00
MK7883
MAINTENANCE KIT 75-83 FOR 75-83 ZERO AIR GEN
EA
$394.00
* Standard lead-time for non-stock items is approximately two weeks depending on the item.
Ordering information. International (non-US) prices available through your local dealer.