Description
Lowest Syringe Carryover
The unique design of Diamond MS syringes and removable needles ensures carryover is reduced to levels lower even than the best fixed needle syringes available. In the event of needle damage, Diamond MS needles provide a cost effective alternative to purchasing an entire fixed needle syringe.
Features
Improve the sensitivity of your MS analysis:
Lowest syringe carryover
Reduced non specific sample interaction and increased analye recovery
Ultra smooth removable needles with choice of surface treatment. SGE understands how important your MS results are, and how precious your sample is. Diamond MS syringes and needles are MS ready and designed to improve the sensitivity of your MS results.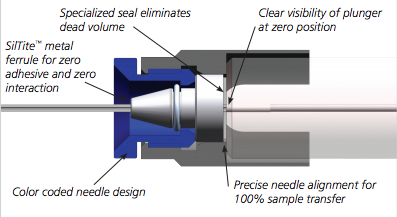 Diamond MS syringes have unbeatable clean-ability thereby further reducing carryover
Anything in the sample flow path can interact with your sample and impact your results, so SGE has developed 'Ultra Smooth'needles to reduce non specific interaction between your sample and the needle.
Diamond Syringe
Part No.
Syringe Volume
Syringe Code
Price
EA
Order
Manual
002750
10 µL
10R-GT-MS1
$100.00
003750
25 µL
25R-GT-MS1
$100.00
004750
50 µL
50R-GT-MS1
$100.00
005750
100 µL
100R-GT-MS1
$100.00
006750
250 µL
250R-GT-MS1
$100.00
007750
500 µL
500R-GT-MS1
$100.00
Agilent
002760
10 µL
10R-AG-GT-MS1
$94.80
003760
25 µL
25R-AG-GT-MS1
$94.80
Shimadzu
002780
10 µL
10R-S-GT-MS1
$94.80
CTC PAL
002770
10 µL
10R-CTC-GT-MS1
$108.20
003770
25 µL
25R-CTC-GT-MS1
$108.20
004770
50 µL
50R-CTC-GT-MS1
$108.20
005770
100 µL
100R-CTC-GT-MS1
$108.20
Thermo
002790
10 µL
10R-RTC/RSH-GT-MS1
$108.20
003790
25 µL
25R-RTC/RSH-GT-MS1
$108.20
004790
50 µL
50R-RTC/RSH-GT-MS1
$108.20
005790
100 µL
100R-RTC/RSH-GT-MS1
$108.20
* Standard lead-time for non-stock items is approximately two weeks depending on the item.
Ordering information. International (non-US) prices available through your local dealer.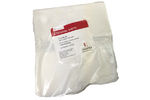 Disposable Lint Free Essential Cloths/Wipes
Wipes are disposable, 100% cellulose, lint-free cloths designed for cleaning areas where non-contamination is essential.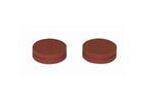 SGE Septa for Varian
GC septa by SGE for Varian.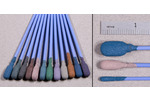 Micro-Mesh® Sanding Swabs
The Micro-Mesh® Swabs are used for anything from polymer clay to porcelain, plastics, and more.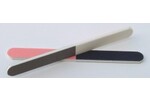 Micro-Mesh® 5/8" x 5-3/4" 4 Way Buffer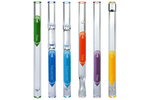 SGE GC Injection Port Liners
SGE offers a wide variety of injection port liners.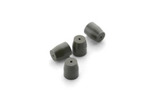 SGE Graphitized Vespel® Ferrules
Vespel® ferrules contain 15% graphite and are ideal for glass and fused silica capillary columns.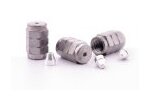 SGE Ferrules for GC
standard graphite ferrules (for GC applications)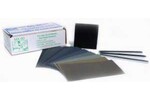 Micro-Mesh® Metal Finishing Kit
Micro-Mesh® kit for polishing stainless steel, copper, brass, bronze, aluminum and other soft metals to a mirror finish.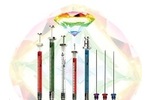 SGE Diamond MS Replacement Plungers
The unique design of Diamond MS replacement plungers.