Features
Stainless Steel Manual On/Off Valve Pneumatic (MOVP) - Pneumatic Operation
Pneumatic control On/Off valve
Gas regulator for cold traps
High temperature 300 °C
Locknut for attachment to a mounting plate
Pneumatic head (black) must be external to oven
On-Off Valves (Pneumatic Operation), Connection=1/16", Temp=300 C, Pressure Rating=700 psi
Part No.
Configuration
Stem Length
Price
EA
Order
1236091
L Single Outlet
50 mm
$326.60
1236103
T Dual Outlet
50 mm
$331.70
1236104
T Dual Outlet
100 mm
$331.70
* Standard lead-time for non-stock items is approximately two weeks depending on the item.
Ordering information. International (non-US) prices available through your local dealer.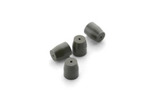 SGE Graphitized Vespel® Ferrules
Vespel® ferrules contain 15% graphite and are ideal for glass and fused silica capillary columns.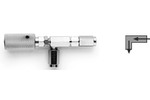 On-off Valves


(Manual Operation)
Stainless Steel Manual On/Off Valve (SMOV) - Manual Operation
Stainless Steel Worm Gear Clamps
The finest reusable worm gear clamps made.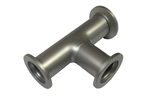 QF Stainless Steel Tees
Three NW flanges permit the union of several pump lines.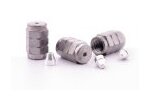 SGE Ferrules for GC
standard graphite ferrules (for GC applications)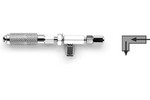 Brass Micro Control Valves (BMCV) - Manual operation
Features Back pressure regulator Low temperature to 100 °C Locknut for attachment to a mounting plate 1236282 : BMCV (Manual Operation), Configuration=L Single Outlet, Stem Length=n/a, Connection=1/16", Temp=100 C, Flow Rate=0-2000 mL/min, Pressure Rating=700 psi