Description
The Parker/Balston FTIR Purge Gas Generator is specifically designed for use with FTIR Spectrometers to provide a purified purge gas and air bearing gas from compressed air. The Generator supplies carbon dioxide-free air at less than -100 ˚F (-73 ˚C) dew point with no suspended impurities larger than 0.1 The unit is designed to operate continuously 24 hours/day, 7 days/week. The Parker/Balston Purge Gas Generator completely eliminates the inconvenience and the high costs of nitrogen cylinders and dewars, and significantly reduces the costs of operating FTIR instrumentation. The Parker/Balston unit offers cleaner backgrounds in a shorter period of time and more accurate analysis by improving the signal-to-noise ratio. The typical pay-back period is less than one year. The Generator is also ideally suited for use with CO2 Analyzers and Matrix GC's in addition to supplying other laboratory instruments.The Generator is quiet, reliable, and easy to install - simply attach the inlet and outlet air lines (at least 60 psig and 1/4 inch pipe), plug the power cord into a wall outlet, and enjoy trouble-free operation.
Features
Eliminates the need for costly, dangerous, inconvenient nitrogen cylinders in the laboratory
Compact design frees up valuable laboratory floor space
Improves signal-to-noise ratio even on non-purge systems
Recommended and used by most FTIR manufacturers
Typical payback period is less than a year
Specs
Model 75-45
Model 75-52
Model 75-62
Flow Rate for Specified Dew Point:
Inlet Pressure 125psig
36 scfh (17 lpm)
72 scfh (34 lpm)
216 scfh (102 lpm)
Inlet Pressure 60psig
18 scfh (9 lpm)
36 scfh (17 lpm)
120 scfh (57 lpm)
>CO2 Concentration
< 1ppm
< 1ppm
< 1ppm
Dew Point
-100 °F (-73 °C)
-100 °F (-73 °C)
-100 °F (-73 °C)
Min./Max/ Inlet Air Pressure
60 psig/125 psig
60 psig/125 psig
60 psig/125 psig
Max. Inlet Air Temperature
78 °F (25 °C)
78 °F (25 °C)
78 °F (25 °C)
Air Consumption for regeneration
30 scfh (14 lpm)
60 scfh (28 lpm)
120 scfh (57 lpm)
Inlet Outlet Port Size
1/4" NPT (female)
1/4" NPT(female)
1/4" NPT(female)
Electrical Requirements
120 VAC/60 Hz
120 VAC/60 Hz
120 VAC/60 Hz
Dimensions
13"h x 7"w x 6"d
27"h x 9"w x 9"d
42"h x 13"w x 9"d
Shipping Weight
25 lbs (11 kg)
40 lbs (18 kg)
88 lbs (40 kg)
Part No.
Description
Model
Price
EA
Order
7545
FTIR Gas Generator
75-45
$3890.00
7552
FTIR Gas Generator
75-52
$5895.00
7562
FTIR Gas Generator
75-62
CALL
Kits
MK7505
MAINTAINANCE KIT/75-45
$192.00
MK7552
MAINTAINANCE KIT/75-52
$345.00
* Standard lead-time for non-stock items is approximately two weeks depending on the item.
Ordering information. International (non-US) prices available through your local dealer.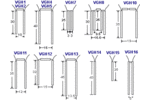 VG Source and Thermospray Heaters
Replacement heaters for VG mass specs.